Several events (or better say incidents?) lead to this effort and therefore they belong to the story and need to be mentioned. It started on one day before new years eve 2016. You may think "oh a new years resolution started it". Actually it was slightly different. My two daughters wanted to spend new years eve at their relatives house in Unterfranken. So I took them there on December 30 and had a bit of time. The sun was shining although temperatures were around freezing. So I stopped at the Altmühlsee and went for a walk since my head was full of heavyweight thoughts about tons of things and looking over the water being outside is a perfect way to clear my mind.
On the lake, I saw a couple watering their boards. They put luggage on it, maybe it was groceries. They packed it on the board and took off to cross the lake. I imagined, that is where they live and this is their regular shopping tour. Standing there, I was fascinated by the idea to do this in winter, grab a board and cross the lake. It felt like freedom, especially given that it is winter and freezing cold. And as in so many occasions I think, this feels really good, I want to do it too, some day.
May 2016, it was warm again, and my daughters and I went to the North Sea, we have spend a lot of vacations there, it feels like our second home. I see all these kite surfers at the beach and thought this must feel really good, I want to do it too, some day. Then I did set my self a goal. I want to feel this. Some day, I want to get on the water with a kite and a board, get on the board and start in the water and ride.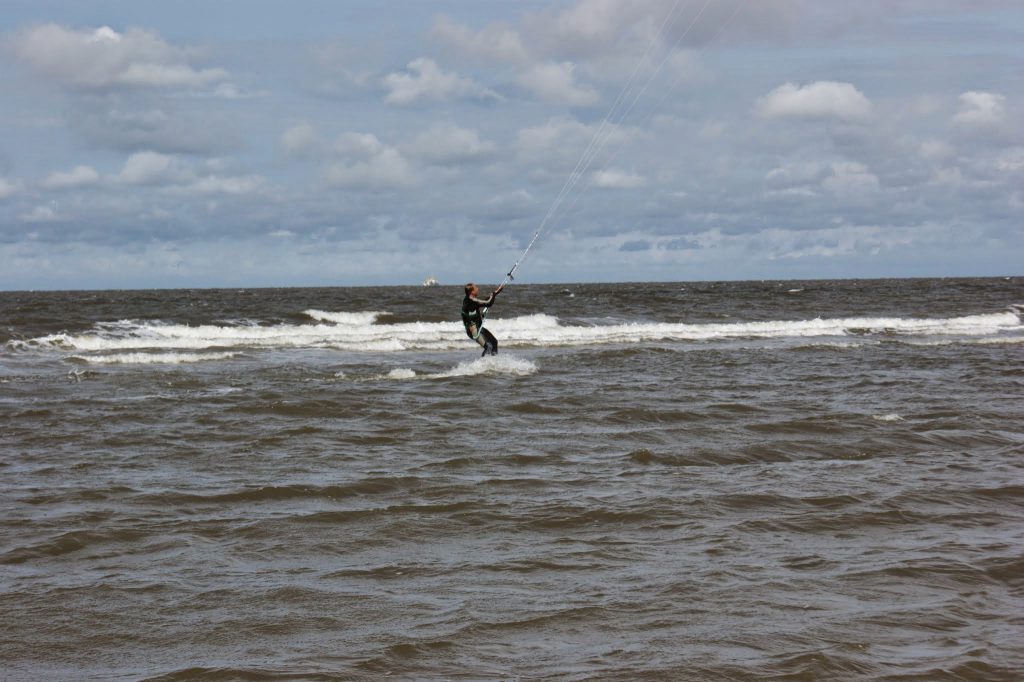 Knowing myself well enough, I knew I am missing talent and if I would ever do that I would have to do it the same was as approaching my first marathon, compensating missing talent with more hard work. And I did go to a kite surf class and after a hundred of attempts drinking salt water while taking several, probably funny looking flights, drifts, dives and other ridiculous moves, I made it, I got on the board while doing a power dive I got out of the water and rode for 100 meters.
That was it. I realized I won't be the one jumping high in the air doing loops in my mid-fourties. But I did reach my goal, good enough.
Good enough
Years later, a friend told me that there is somebody, close to where we often pass by on our bicycles on a tour, who actually builds wooden boards for stand-up paddling and he also offers workshops where you can build your own. This is really good, I want to do it too, some day. All of a sudden, all occasions passed by my eyes (or through my head) my attempts to build something with my hands that actually works and looks like decent craftsmanship and I realized, I made something that worked a bit but was far from being reliable or a decent accuracy and keep admiring the craftsmen, that create things that last a life long and look pretty good too. But, everything I built at least worked, mastery is something different though. But … good enough.
But it bothers me, in my job, with the team, I can get a multibillion transistor chip working in the lab in one shot so we can deliver it to the customer, but can't get something built with my own hands that works and looks decent.
Coming back to riding boards on the water. In January 2019, I was sitting at night wondering what Dan Kieran does, one of the authors of the magazine the "idler". I love his and Tom Hodgkinsons philosophy and their art of living (that is actually where the name of the category on my website comes from. I stumbled over a recent book from Dan, it is called "The Surfboard; how using my hands helped unlock my mind".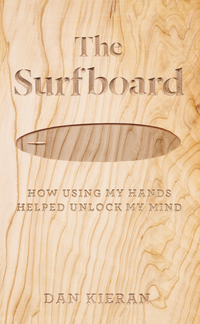 He was never able to build something with his hands before, since he wasn't able to put together a shelf from IKEA. Along with big things keeping his mind busy in his life, he decided to take a week off, he went to Cornwall to a friend he met and started building a surfboard, without ever been on a surfboard before. And then it clicked, I immediately ordered the book and before I even had it in my hands or read a line of it, I started searching for the guy close by who builds wooden boards for standup paddling and found him at www.breddlesbauer.de. I immediately felt the urge to send him an email that I want to build a surfboard in his workshop. I got an email the day later. Thank you for your interest, my boss is in Morocco stand-up paddling and will contact you in a couple weeks, when he is back. And I knew that is the right place. And I knew, I was going to build a board, even though, stand-up paddling is not something I do all the time. I only tried it once with my daughters.
Weeks later, Peter, the carpenter and breddlesbauer called and I got excited, I will actually start! On the following sunny Saturday beginning of March, I went on a bicycle ride and while I was talking with Peter and his friend Axel, who started the breddlesbauerbusiness with him,We ended up deciding to start right away on the following Saturday! So I got a lot closer to my goal, to take it to the North Sea in June and ride a wave with it!
In the meantime I read the book, and I got fascinated what insights Dan gained about himself in the book, the description of hours of grinding wood intrigued me and I was very curious, what I will learn about myself during building the board.
Changing the goal
Our school holiday, carnival just started and surprisingly Nina said, she will go building with me! First I thought, this would be some kind of journey to myself but I was really happy she joined me even though the official reason was "all my friends are skiing, I don't know what to do with myself, so I can as well come with you".
I was not surprised she started being very active and we collaborated well. I keep thinking she should do more craft training before going to the university.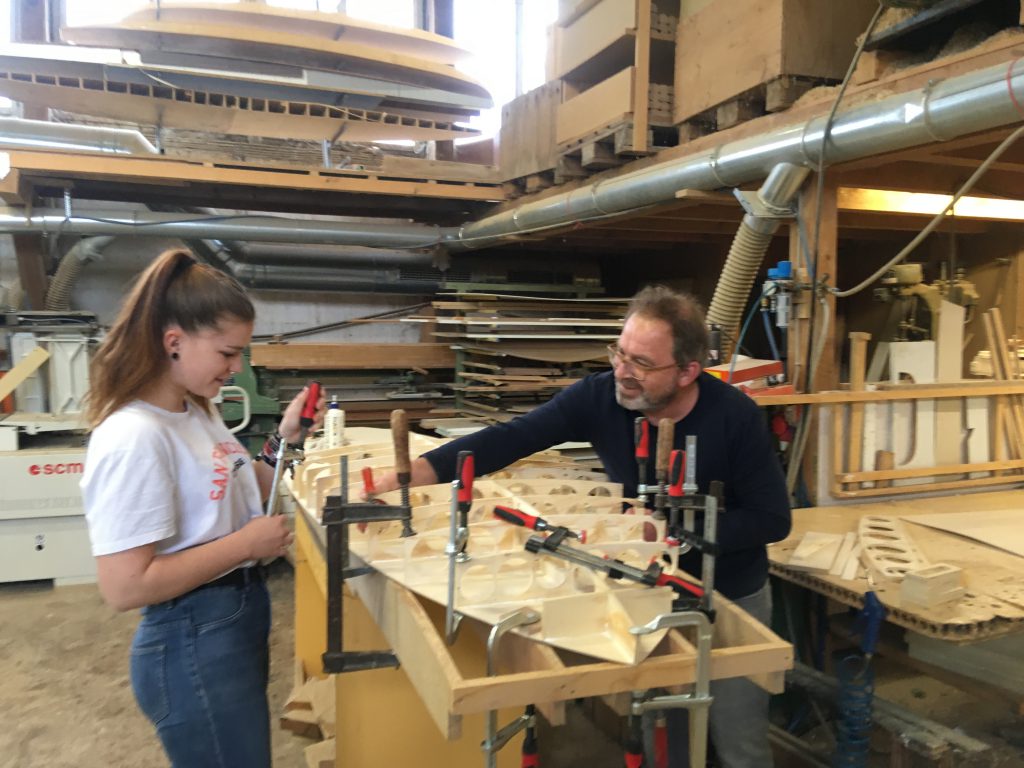 Now what do I do with learning about myself? Gaining mastery is out of the game, and it turns out that my daughter is actually much more talented that I am. So I gave up not trying to do everything on my own (especially the difficult tasks) and let her taking the tasks where more caution was required, more accuracy was needed. She started taking responsibility. Indeed, working in a team with Nina on this was much more fun and very enriching. So instead of sticking myself forcing to the original plan, gaining mastery, we kept working together as a team.
The goal changed, from my own personal mastery to building a board together with my daughter. Embracing the change of the plan enabled the best to happen in the project.
Don't panic
We assembled the skeleton. As we put on the first plank on the bottom, one of the bones broke. And I thought that's it. And here Peter said, don't worry this is completely normal and can happen if you bend a wooden plank in three dimensions. The realization is – in wooden structures you can fix almost everything – if you don't panic. This was the very first thing that really changed my mind. I thought everything must be perfect, one mistake and you can start over again. You need to know and apply the right magic. The second thing I learned, it will still be perfect even if not everything is 100% accurate, which changed my mind, since my original intention was to achieve mastery in building something completely accurate, beautiful and functional.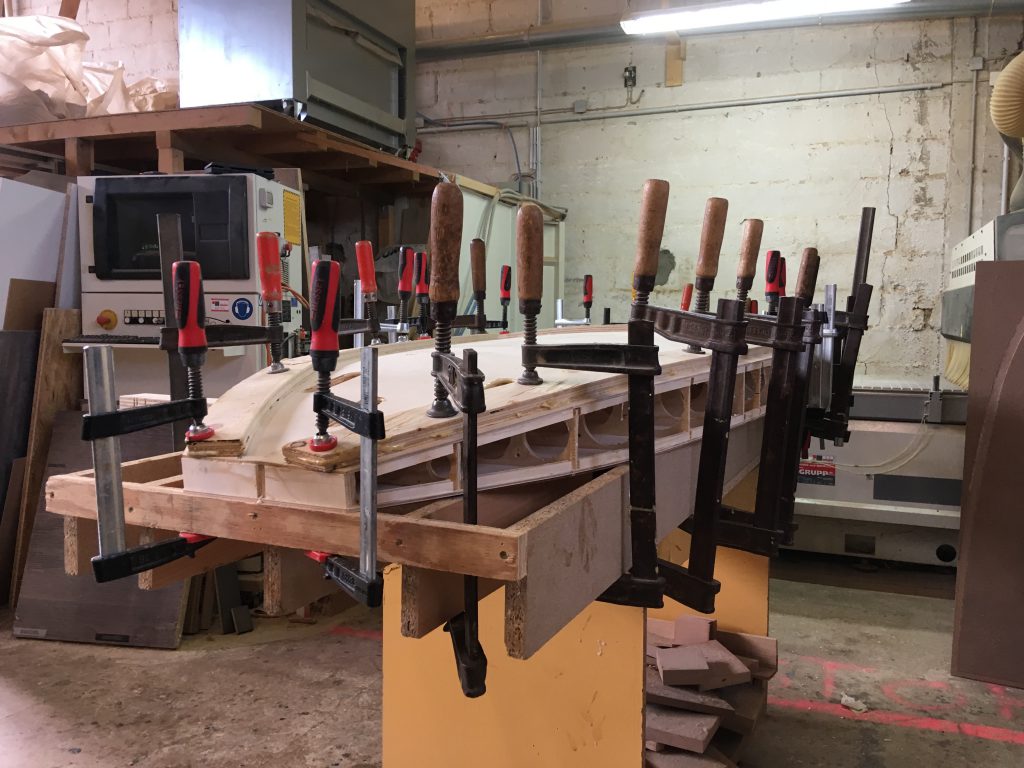 So everybody just boils with water, I was actually relieved with the first experiences, that good enough is … good enough.
Stop competing and start trusting
"How using my hands helped unlock my mind" was not my story, I knew that in the beginning. I again thought I need to prove myself that I can do things like this, I can build things that look perfect in the end and they also work. Although in the past I always managed to get something working whenever I built something.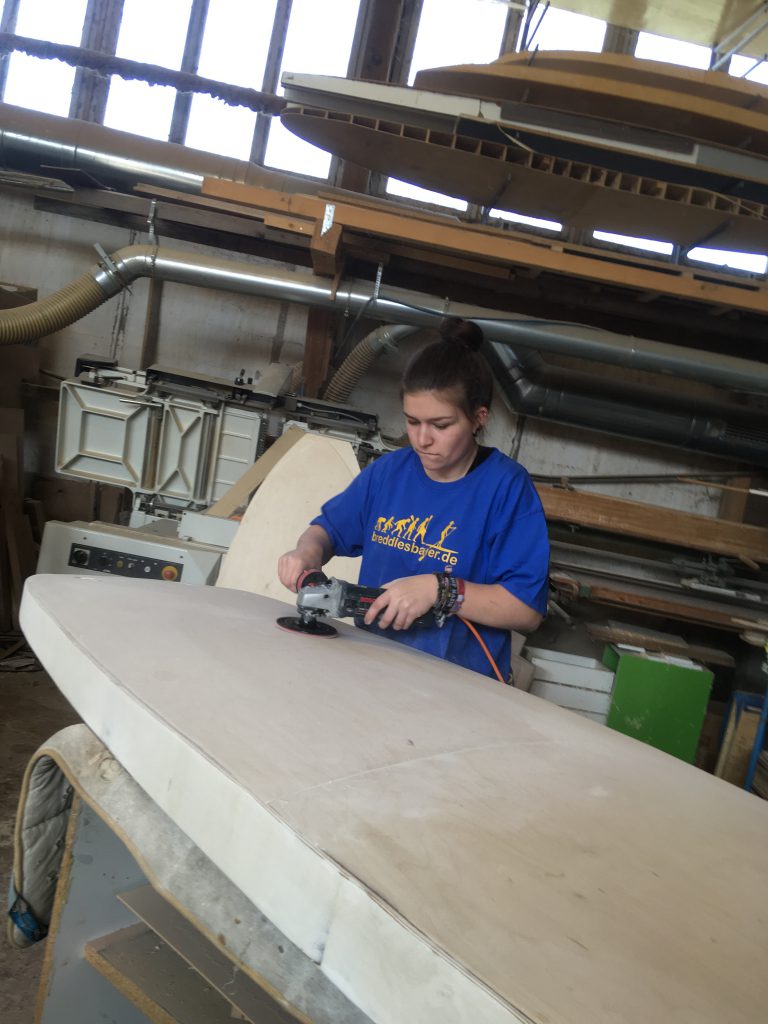 The important part was that my daughter joined me and made this to our board. As soon as I start not trying to do this myself, I realized she is much more talented, much more careful in grinding wood, using the machines.
Realizing that I remembered a great turning point in my work life, the moment I stopped competing in all disciplines, stopped proving myself I can do it better. It prevented people from doing their best, particularly doing it their own way. Trust the team mates, let them do things better, a much better outcome can be achieved.
During the project I fully became conscious about the fact, that I was trying to compensate that I did successfully overcome at work. Trying to build a masterpiece. And again realized here, that it leads to much better result initiating something good and have the team achieve the best results actually leads to the better results.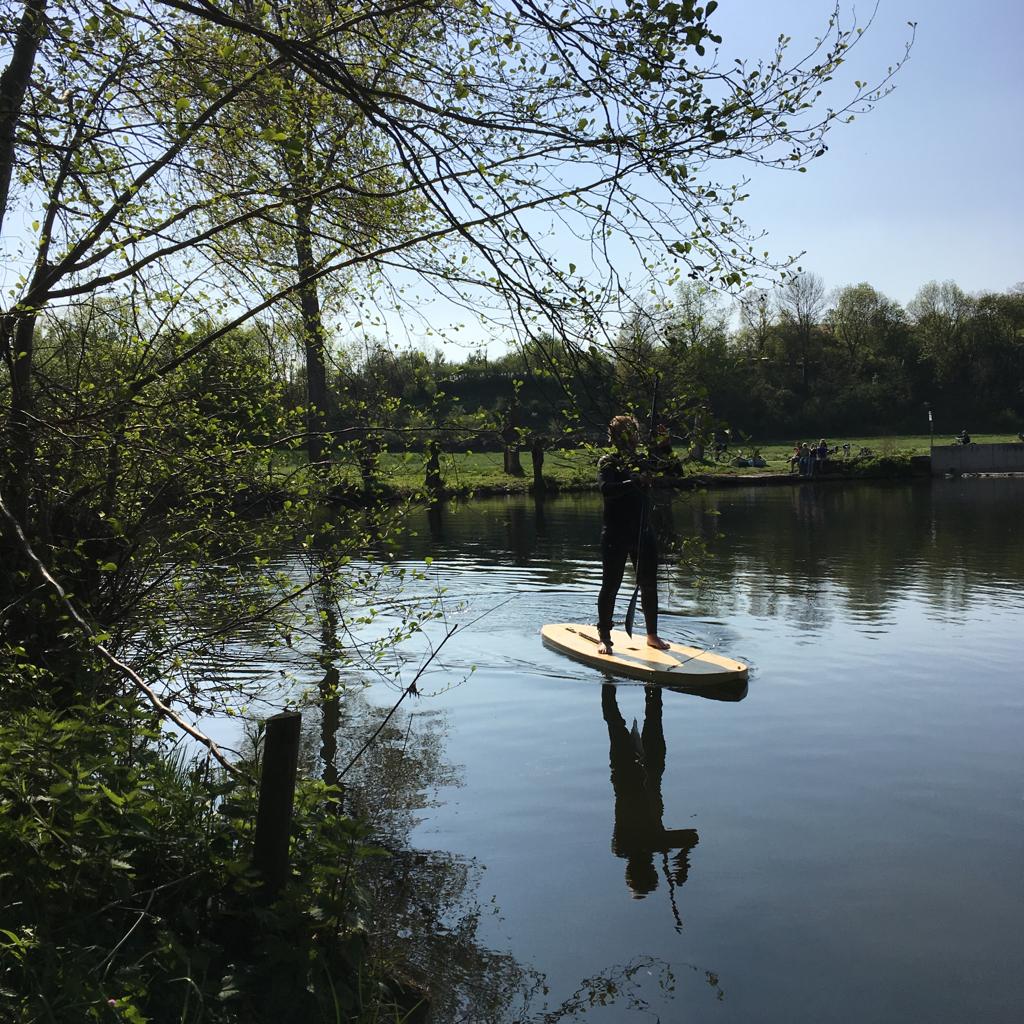 And that needs to be good enough is when it is watertight and glides nicely across the water. Built with our own hands.
While being on the board yesterday in the North Sea, I was not surprised that I came to the realization that I will not become the best stand-up paddler either being in the water after each bigger wave. Or – I have to admit – after each noticeable wave.
It is fun to do it anyway. And I went kitesurfing again today – now with Nina.